Here's what our studio family has been up to so far in 2018!
Charis Mace & Olivia Wilson
Charis and Olivia sang in the WVACDA Middle School / Jr. High All State Choir under the baton of Craig Dennison at the WVACDA Conference.
 
Philip sang in the WVACDA High School All State Chamber Choir under the direction of Dr. Marshall Haning at the WVACDA Conference. Only 8 singers are chosen for each voice part in this elite choir.
Anne was cast in this summer's Peoples Bank Theatre production of Guys and Dolls.
Mary was accepted into the Ohio University Department of Music in the Vocal Performance and Pedagogy Master's program. Mary has been a music educator in the Cincinnati area for several years.
Eric, creator and host of the nationally syndicated television program, Songs at the Center, has been recognized as "A National Number One" by The Columbus Foundation.
Photo by Mitchell Multimedia
Mikhal was selected as a contestant in PBS's Celebration of Music. The winner will perform with Ethan Bortnick at Lincoln Theatre in Columbus. Vote for her here!
Jared has been nominated for "Best Local Solo Musician" in (614)'s ColumBEST. Click here to vote! You'll find him under People and Community.
Kenzie and Lyanna were selected as contestants in PBS's Celebration of Music. The winner will perform with Ethan Bortnick at Lincoln Theatre in Columbus. Vote for them here!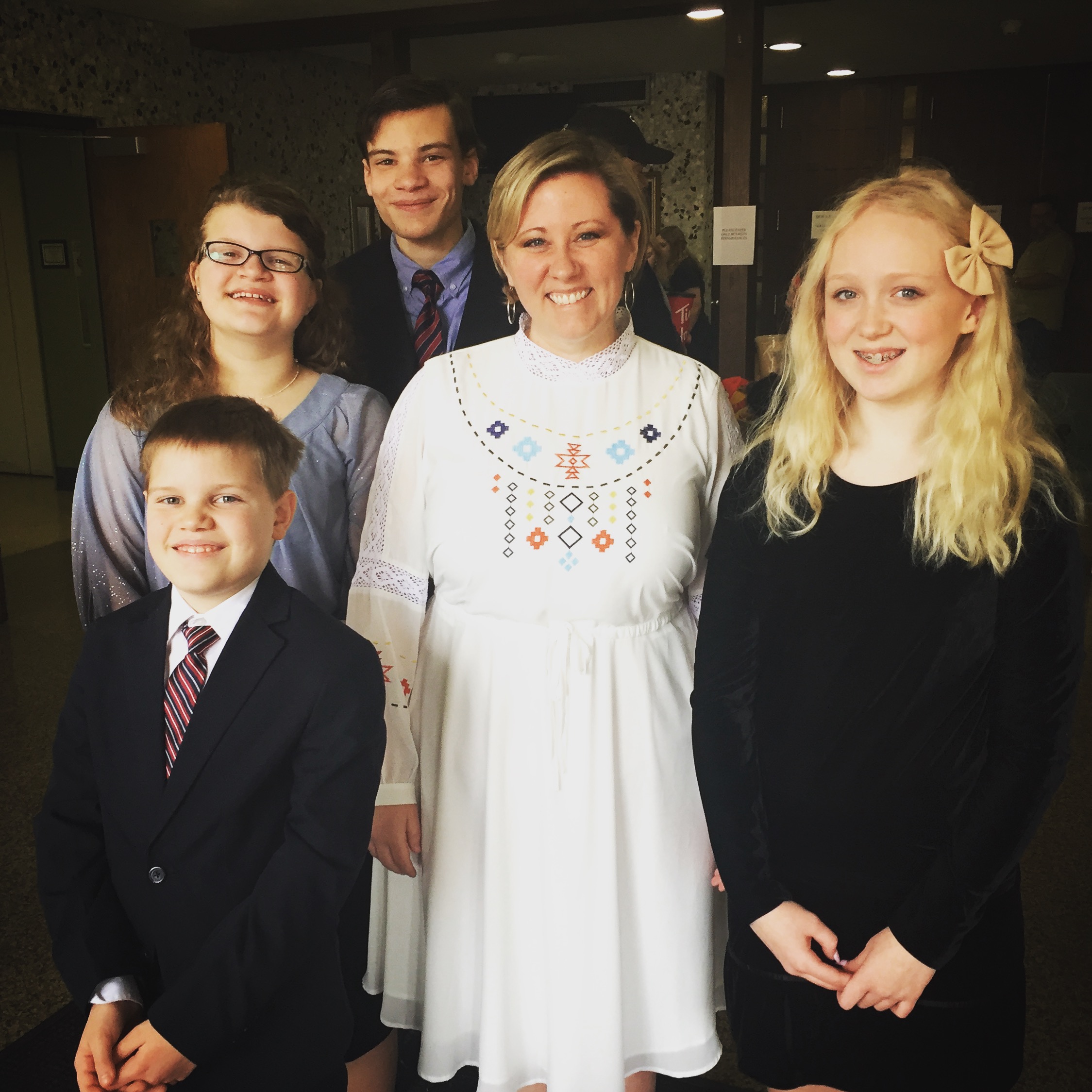 Audrey Sundstrom, Emily Verdill, Olivia, Philip, and Samuel Wilson
All five participating studio members received superiors at the WV Region V Solo & Ensemble Festival: vocalists Sam Wilson, Olivia Wilson, Philip Wilson, and Emily Verdill, and pianist Audrey Sundstrom (not pictured...had to run to an equestrian event!).

Olivia and Sam were asked to submit recordings of their performances to the State Recital Committee, and Sam was chosen as a finalist. He'll perform on March 9 in Charleston, WV on at the WVMEA State Recital during their annual conference.

Philip will perform on the Marietta College High School Honors Recital as a result of receiving a superior rating.
Mikhal Grueneberg won 1st place in Level 1 of the Marietta College Piano Sonatina Festival. Pianists Audrey Sundstrom and Maggie Morris also participated and played beautifully.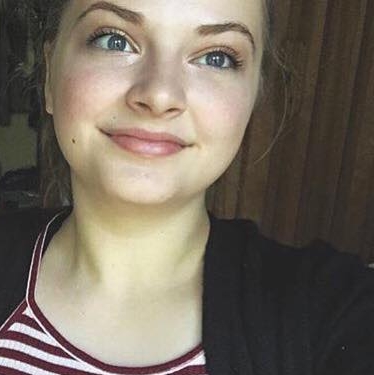 Victoria Humphrey received a superior rating on her performance at the OMEA Solo & Ensemble Festival. Ahni Geogerian and Grace Tenney received excellent ratings.

Victoria will perform in the Marietta College Honors Recital in March as a result of receiving a superior rating.
Victoria Humphrey and Maeghan O'Neill
Victoria Humphrey (Fiona) and Maeghan O'Neill (Pinocchio) performed in Marietta High School's production of Shrek March 2-4.

Photo by Erin O'Neill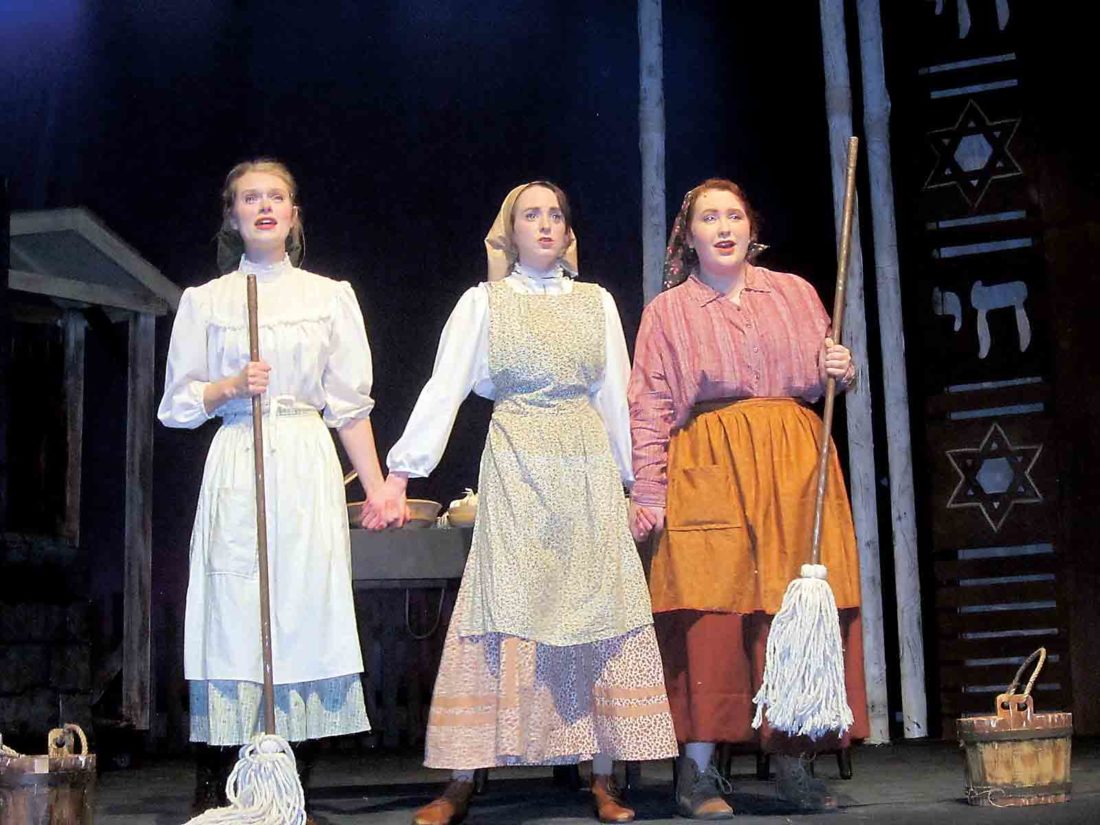 Edain Campbell, Charis Mace, and Sophia D'Eramo
Edain Campbell (Chava), Charis Mace (The Fiddler, Ensemble) and Sophia D'Eramo (Shprintze) are in the Actors Guild of Parkersburg's production of Fiddler on the Roof March 9-11 and 16-18. Get tickets here.

Photo by Wayne Towner
Lyanna Smith, Kenzie Smith, Jerra Johnson, and Jack Tindall
Lyanna Smith (Annie), Kenzie Smith (Pepper), Jerra Johnson (Orphan), Maddie Graham (Orphan), and Jack Tindall (Ensemble) are in the Marietta College production of Annie, April 6-8 and 14. More info here.
Nicki Baker & Chaz Mechenbier
Nicki & Chaz traveled to Nashville to record originals with Grammy-winner Frank Myers as producer. You can hear one of those new tunes here. They're headed back into the studio this week and will have an EP release celebration on Saturday, March 24 at King Avenue 5 in Columbus.
Tony's most recent tour with Phil Dirt and the Dozers included a week performing on Royal Carribbean's Freedom of the Seas and lots of stops in Florida. You can catch Tony and the rest of the band in Ohio and surrounding areas in the coming months.
Jared Mahone was a SOFAR (Songs from a Room) performer in Akron, Ohio. Here's his new tune "That Moment" from that performance.

Jared tours regularly on the national college and house concert circuits. He'll be one of the featured presenters at the Columbus Songwriting Workshop on March 24, teaching a class on house concerts and alternative ways to get your music heard. Grab your tickets here.
Jared Mahone was featured on an episode of American Public Television's Songs at the Center in January.